About Electric Drive bvba
Electric Drive's founder, Joeri de Ridder, pioneered electric vehicles in Belgium as co-organizer of the Ecomobiel fairs in Antwerp from 2005 till 2009 and with the launch of the Reva electricity-car in 2008 as technical and commercial responsible for Green Mobil nv. The compact Reva was designed in California and manufactured in India by the Reva Electric Car company, later acquired by the Mahindra group.
Joeri founded Electric Drive bvba 10 years ago with the mission to minimize the effects of climate change by encouraging carbon-neutral mobility. With close to 200 compact electric utility vehicles distributed in Belgium, Electric Drive's clients (mainly municipalities, industry and social services) have accumulated over 5 Mio km of road user experience and the company has a growing team with more than 35 years of combined EV, automotive, mechanical and electrical engineering experience.
Test before you buy
Tell us what model and version you consider buying and we will look for a similar vehicle you can test under real life working conditions for upto one week – completely free of charge. This is the best way to ensure there will be no nasty surprises when you later decide to buy an e-vehicle. We have always promoted this approach and also… our e-vehicles are our best salesmen.
One single point of contact
Are you bored by the waiting music and lack of knowledge of your responder? Not with us: one point of contact and direct answers to your questions: technical, parts, sales, anything. Just call us at 0477-63.39.23 or email info@electricdrive.be and you immediately get a clear answer to all your questions about e-mobility.
Service, maintenance & repairs
For more than 10 years we have been focusing exclusively on electric vehicles and we can say we know them by heart.  Our e-vehicles work sometimes under severe conditions and many of them are used 24/7 all year round. In case of maintenance, repairs, an accident or a break-down we have our own transportation and dedicated technicians to help you: our team followed extensive trainings at the Goupil factory in Bourran on all Polaris W&T vehicles and we are also trained on the high-voltage system of the Maxus EV80. Small repairs and maintenance can be done at the customer's place, in other cases we transport the vehicles to our workshop near Antwerp.
As Green As Possible
Low speed vehicles don't drive to the workshop but the workshop comes to them and to keep your e-vehicle's footprint as green as possible, we have a unique fleet of service vehicles: the first might look like a regular tow truck (see picture below) but in fact it is a rare model that runs on LPG. We recently bought this tow truck and completely refurbished it with a new engine and new LPG installation. This allows our truck to also operate in Low Emission Zones where our e-vehicles are at work. And it is also cheaper to run. Our other service vehicle is an SUV powered by a hybrid drivetrain and also capable of towing 2000kg. And when your e-vehicle returns from a visit to our workshop, its battery is always topped up by solar power generated by the PV-arrays on the roof of our workshop.
EV-RENT = Always on the move
EV-RENT runs a fleet of more than 30 courtesy or rental e-vehicles in different configurations:
– 1x Goupil G1  4 seater Pick-up
– 2x Goupil G2 Lithium Pick-up
– 1x Goupil G2 Lithium Box-van
– 2x Goupil G3-S Van-box
– 2x Goupil G3-S Tipper
– 1x Goupil G3-2L Pick-up
– 3x Goupil G3-2L Tipper
– 5x Goupil G3-2L Van-box
– 2x Goupil G3-2L Thermo-box
– 2x Goupil G3-L Combi : equipped with leaf collector & High-pressure unit
– 1x Goupil G4M Tipper (Lead-acid)
– 1x Goupil G4L Combi Lithium : equipped with High-Pressure unit
– 1x Goupil G5E Pick-up (Lead-acid)
– 2x Goupil G5E Tipper (Lead-acid & Lithium)
– 1x Goupil G5E Van-box (Lead-acid)
– 1x Goupil G6 Tipper
– 1x GEM e4
– 2x Grau Smartworker SW3
We also have a full electric Hill-Tip saltsprayer and an Oeliatec hot-water weed-killer that can be installed on our Goupils and rented together or seperately.
Taylor made to fit every request
We work closely together with companies like BodyConstruct to build and equip your e-vehicle with every option or body possible.
Flemish municipalities can buy direct via Fluvius (Eandis & Infrax) :
Our e-vehicles have been selected under the blanket order organised by Eandis and can be selected via their catalogue. For more info about these special conditions, please contact us.
Buy-back? Yes, please!
If you decide to sell your older e-vehicle after it is f.ex. written off and you decide not to keep it, we are always interested to buy it back. After refurbishing it is ready for a second life as courtesy or rental vehicle or can be offered for sale with a warranty to our customers.
About GOUPIL
Goupil Industrie is the European market leader in compact electric utility vehicles based in the South West of France. Goupil was created in 1996 by Pascal Duclos, electrical engineer, and engineer Thierry Zerbato, an articulated boom specialist. The two partners used forklifts technology to design their first electric utility vehicle. The company's workforce has grown to over 150 employees and is now a 100% subsidiary of Polaris Industries, USA.
GOUPIL INDUSTRIE Key Figures

Over 15 000 vehicles produced / Present in 35 countries / 1000+ clients in Europe
200+ vehicles in Belgium / 46M€ turnover in 2017 / 60% turnover from export markets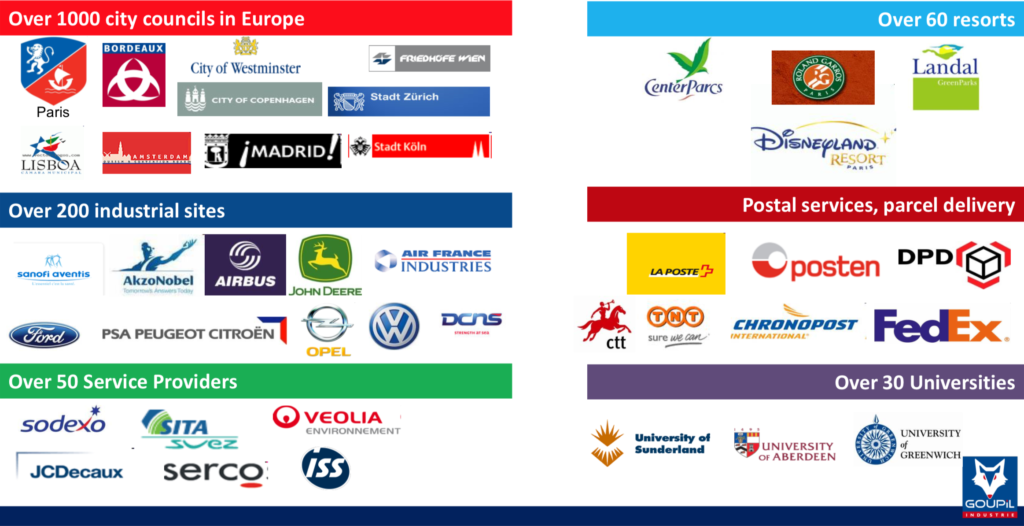 Leading customers in Belgium
Cities & Provinces: Anderlecht (5), Antwerp (11), Brussels (16), Edegem, East Flanders (7), Flemish Brabant (7), Ghent (6), Kortrijk, Liège (6), Meise, Namur, Niel, Ronse, Rumst, Soignies, Uccle, Wijnegem, …
Industry & leisure: ACIS, Agfa-Gevaert, Borgerstein (5), Center & Sun Parcs (16), DHL, Eandis, Ecopostale, Emmaus, Google, Hamer, Manus, NATO-HQ, Traflux, UCL, Umicore, VF-Europe, …
About GEM
Global Electric Motorcar (GEM) is a street legal, zero emissions, low speed vehicle. GEM is highly customizable and allows you to accomplish all the tasks you need at a lower cost than a pick-up truck, sedan, or passenger and utility vans. Meeting the federal requirements set for LSVs GEM has more safety features than your average golf cart. GEM costs less to purchase, has lower maintenance costs, costs less to charge (than filling up a gas vehicle), and is an outward sign of your commitment to environmental sustainability. Whether you need a people mover for campus tours, VIP transport, and department mobility, or you are in the market for a utility vehicle for grounds maintenance, indoor/outdoor hauling, or building maintenance, we have a vehicle to fill that role.
About Polaris
Polaris Industries Inc. (NYSE: PII) is a global powersports leader with annual 2015 sales of $4.7 billion. Polaris fuels the passion of riders, workers and outdoor enthusiasts with our RANGER®, RZR® and Polaris GENERAL™ side-by-side off-road vehicles; our SPORTSMAN® and Polaris ACE® all-terrain off-road vehicles; Victory® and Indian Motorcycle® midsize and heavyweight motorcycles; Slingshot® moto-roadsters; and Polaris RMK®, INDY®, Switchback® and RUSH® snowmobiles. Polaris enhances the riding experience with parts, garments and accessories sold under multiple recognizable brands, and has a growing presence in adjacent markets globally with products including military and commercial off-road vehicles, quadricycles, and electric vehicles.
About Taylor-Dunn
Founded in 1949, Taylor-Dunn is a leading manufacturer of commercial and industrial vehicles. For over sixty years, Taylor-Dunn's burden carriers, personnel carriers, stockchasers, electric carts, and tow tractors have been the dominant solution for customers in a broad range of industrial, commercial, and ground-support markets. Taylor-Dunn's guiding principle is to provide application-specific solutions that are tough, rugged, and dependable.
ASBE, AVERE & WEVA
Joeri was Chairman of Avere Belgium from 2007 till 2016 and Chairman of AVERE from 2014 till 2017. AVERE is the leading European network for manufacturers, suppliers, importers and distributors of electrically propelled vehicles (battery, hybrid, fuel cell) and accessories. The purpose of the association is to promote the use of electric vehicles and to support scientific and technological developments. From 2016 till 2017 Joeri also chaired WEVA (World Electric Vehicle Association) where AVERE joins together with EDTA (North America) and EVAAP (Asia-Pacific) to organize the yearly international Electric Vehicle Symposium (EVS).