Complete new Goupil range on show at Transportmedia's Best of Van Xperience

Two versions of the new Goupil G6 available for demo's in Belgium from 02/05 till 12/05

https://transportmedia.be/2020/05/nieuwe-versies-goupil-g6-nu-beschikbaar-in-belgie/
Goupil G4 delivered at Liège Airport to support the technical services of FedEx and TNT

Sneak preview of new G6 and G4 face-lift @ Salon des Mandataires – Municipalia
New Goupil G6: delivery starts Q4 2020
Utilitaire électrique 2020, Goupil G6 avec une charge utile jusqu'à 1,2 t
A record number of Goupils delivered in September 2019
Electric drive has delivered 15 new Goupils in September of 2019:
1x G4 To the Sports Services of the City of Brussels, 4x G4 to the Service for Green Spaces of the City of Brussels, 2x G4 To the Service of  Public Cleanliness of the City of Brussels, 3x G5 Lithium to the Commune of Anderlecht and 5x G4 to the Domain of Zilvermeer. The promontory of 200 Goupils in Belgium has been surpassed with these new deliveries.
The commune of Soignies takes in service the first Goupil G5 garbage truck
June 2019- we have delivered the first Goupil G5 garbage truck to the commune of Soignies. Earlier this year, we had already delivered 7 GRAU Smartworkers to the same commune. Together with the Goupil G5 garbage truck they will take care of the collection of garbage and the emptying of bins in the public space. The Goupil G5 garbage truck is equipped with a container lift and compactor.
Electric Drive delivers first two Maxus EV80's in Belgium to Commune of Anderlecht
June 2019- The first two Maxus EV80 H3 vans were delivered to the Commune of Anderlecht. Both vehicles have been equipped with hard board floors and lightweight paneling to protect the interior. We also added Rhino ImpactSteps at the back and an LED Traffic master on the roof and LED's in the front grille.
New Goupil G2: delivery starting in oktober 2019
The sturdy new G2 will be offered with a closed box or open bed.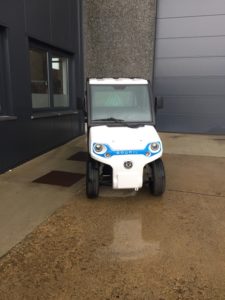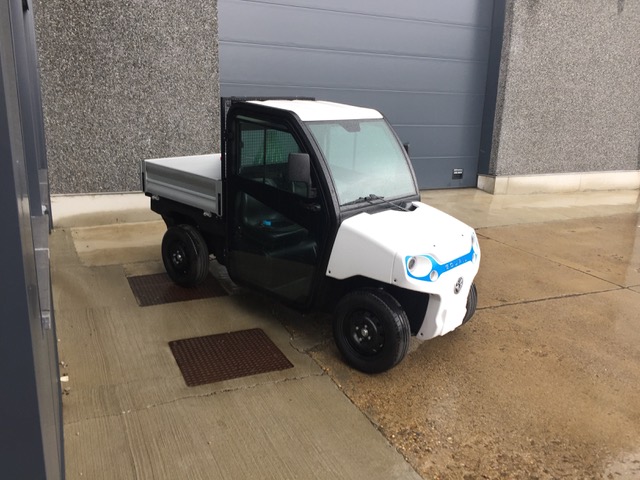 ArcelorMittal Ghent puts first Goupil G4 in service
March 2019- The maintenance crew now uses a  G4 as mobile tool-box for service and repairs inside its facilities. Its compact dimensions and short turning radius make the G4 the perfect tool for this.
New Goupil G4-L: 55cms longer chassis

March 2019- The Goupil G4 will from now on be available with a longer chassis. The G4-L will only be available in a N1 homologated version with Lithium batteries.
Electric Drive delivered three G1's for the new B-Rail quick service center in Melle

March 2019- Two G1's equipped by HAMER TECHNICS are used for oil collecting and refilling. Another G1 equipped with non-marking tires is used in the warehouse.
See video here: https://youtu.be/ICcwEMjTxxc
Electric Drive delivered two G4 Lithium vans to DHL

January 2019- DHL added two G4 vans equipped with sliding doors and a 14kWh Lithium packs to their fleet of last mile e-vehicles.
https://www.bestelauto-expo.nl/nieuws/naslagwerk/dhl-parcel-neemt-elektrische-goupil-in-gebruik/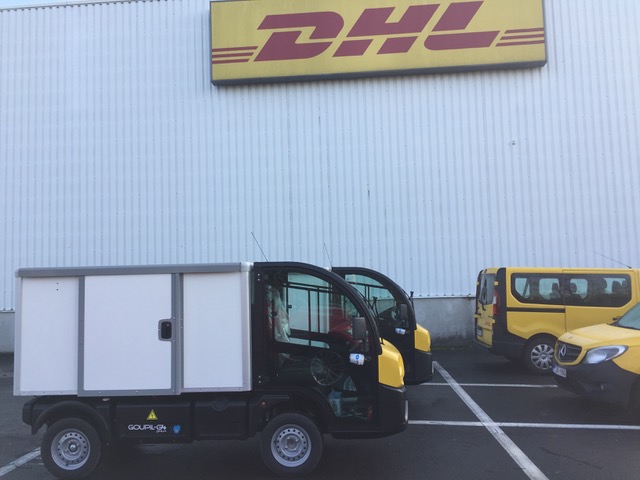 City of Ghent takes delivery of two new Goupil G4 for the winter services
October 2018- City of Ghent puts two Goupil G4 in service for spraying brine on the bicycle lanes. The Goupils have been equipped with winter tires, coated chassis, large mudguards,  Webasto heaters and double DC/DC converters. The HillTip brine sprayers are powered directly from the traction batteries.
Check out the video here: https://youtu.be/qbXDsc64NZA
Electric Drive appointed retail partner of Maxus in Belgium
Maxus grows its European retail network ahead of full launch in 2019
Electric Drive bvba in Belgium is the newest retail partner of Maxus in Europe
The Maxus EV80 is Europe's first large electric van
June 2018– Maxus is increasing its network of retail partners as it prepares to launch the brand in Europe in 2019. The new partnerships will allow Maxus to accelerate delivery of its electric EV80 vans, the only full electric van in its class on European roads.
Deliveries of the EV80 to Europe commenced earlier this year, with Maske GmbH appointed to support operations in Germany and Austria. The latest official retail partners to be announced are Electric Drive bvba in Belgium and Plan-net Solar in Slovenia, while a direct distribution model has been introduced for deliveries to the Netherlands.
Each retailer benefits from skilled technicians, specifically trained to service and maintain the EV80 from SAIC Mobility Europe, a division of China's largest and oldest vehicle manufacturer, SAIC.
Pieter Gabriëls, Managing Director of SAIC Mobility Europe, said: "We have experienced a high level of interest from retailers across Europe who see the potential of a fully electric large van for businesses and fleets in their markets. Our distribution network will continue to grow rapidly as we ramp up deliveries and fully launch the brand across Europe in 2019, with further partnerships to be announced soon in other markets."
Joeri de Ridder, Founder of Electric Drive bvba, added: "With excellent range, zero exhaust emissions and short charging time the Maxus EV80 is an ideal solution for Belgian businesses and Municipalities operating large vans. By adding large electric vans to our offer, we can help our customers reduce fleet operating costs while cutting their carbon footprint, to meet increasingly strict emissions regulations in European cities."
The Maxus EV80 seats 3 people and is available as a panel van in H2-L2 and H3-L2 version and also as a chassis cab, providing practicality and extensive versatility demanded by fleet operators. The EV80 vans have a range up to 200km and a charging time of under two hours. Our models offer competitive levels of standard specification, and feature CCS-Quick charge, ABS, double airbags, air conditioning and heated, electrically adjustable side mirrors and a parking aid system.
SAIC Mobility Europe is responsible for introducing a range of SAIC brands (MG, Rover, Maxus), products and services into Europe in the coming years. The fleet division is making the Maxus EV80 available to more than 200 major fleet operators in Europe, with new retail partners in Norway, Sweden, Denmark, Italy, France and Spain due to be announced shortly.
The Maxus EV80 vans will be on display at the 67th IAA Commercial Vehicles, which takes place in Hannover from 19 September 2018.
Electric Drive bvba appointed exclusive distributor for the POLARIS Work & Transportation range in Belgium
Januari 2017 – Electric Drive bvba has been responsible for GOUPIL electric vehicles in Belgium since 2007 and has now been appointed as exclusive distributor for the complete range of POLARIS Work & Transportation. This includes leading brands like GOUPIL, GEM & TAYLOR-DUNN and also the electric range utility vehicles from MEGA-AIXAM.