Electric Drive bvba appointed retail partner of Maxus in Belgium
Maxus grows its European retail network ahead of full launch in 2019
Electric Drive bvba in Belgium is the newest retail partner of Maxus in Europe
The Maxus EV80 is Europe's first large electric van
June 2018– Maxus is increasing its network of retail partners as it prepares to launch the brand in Europe in 2019. The new partnerships will allow Maxus to accelerate delivery of its electric EV80 vans, the only full electric van in its class on European roads.
Deliveries of the EV80 to Europe commenced earlier this year, with Maske GmbH appointed to support operations in Germany and Austria. The latest official retail partners to be announced are Electric Drive bvba in Belgium and Plan-net Solar in Slovenia, while a direct distribution model has been introduced for deliveries to the Netherlands.
Each retailer benefits from skilled technicians, specifically trained to service and maintain the EV80 from SAIC Mobility Europe, a division of China's largest and oldest vehicle manufacturer, SAIC.
Pieter Gabriëls, Managing Director of SAIC Mobility Europe, said: "We have experienced a high level of interest from retailers across Europe who see the potential of a fully electric large van for businesses and fleets in their markets. Our distribution network will continue to grow rapidly as we ramp up deliveries and fully launch the brand across Europe in 2019, with further partnerships to be announced soon in other markets."
Joeri de Ridder, Founder of Electric Drive bvba, added: "With excellent range, zero exhaust emissions and short charging time the Maxus EV80 is an ideal solution for Belgian businesses and Municipalities operating large vans. By adding large electric vans to our offer, we can help our customers reduce fleet operating costs while cutting their carbon footprint, to meet increasingly strict emissions regulations in European cities."
The Maxus EV80 seats 3 people and is available as a panel van in H2-L2 and H3-L2 version and also as a chassis cab, providing practicality and extensive versatility demanded by fleet operators. The EV80 vans have a range up to 200km and a charging time of under two hours. Our models offer competitive levels of standard specification, and feature CCS-Quick charge, ABS, double airbags, air conditioning and heated, electrically adjustable side mirrors and a parking aid system.
SAIC Mobility Europe is responsible for introducing a range of SAIC brands (MG, Rover, Maxus), products and services into Europe in the coming years. The fleet division is making the Maxus EV80 available to more than 200 major fleet operators in Europe, with new retail partners in Norway, Sweden, Denmark, Italy, France and Spain due to be announced shortly.
The Maxus EV80 vans will be on display at the 67th IAA Commercial Vehicles, which takes place in Hannover from 19 September 2018.
Electric Drive bvba appointed exclusive distributor for the POLARIS Work & Transportation range in Belgium
Januari 2017 – Electric Drive bvba has been responsible for GOUPIL electric vehicles in Belgium since 2007 and has now been appointed as exclusive distributor for the complete range of POLARIS Work & Transportation. This includes leading brands like GOUPIL, GEM & TAYLOR-DUNN and also the electric range utility vehicles from MEGA-AIXAM.
About GOUPIL
Goupil Industrie is the European market leader in compact electric utility vehicles based in the South West of France. Goupil was created in 1996 by Pascal Duclos, electrical engineer, and engineer Thierry Zerbato, an articulated boom specialist. The two partners used forklifts technology to design their first electric utility vehicle. The company's workforce has grown to over 150 employees and is now a 100% subsidiary of Polaris Industries, USA.
GOUPIL INDUSTRIE Key Figures

Over 15 000 vehicles produced / Present in 35 countries / 1000+ clients in Europe
200+ vehicles in Belgium / 46M€ turnover in 2017 / 60% turnover from export markets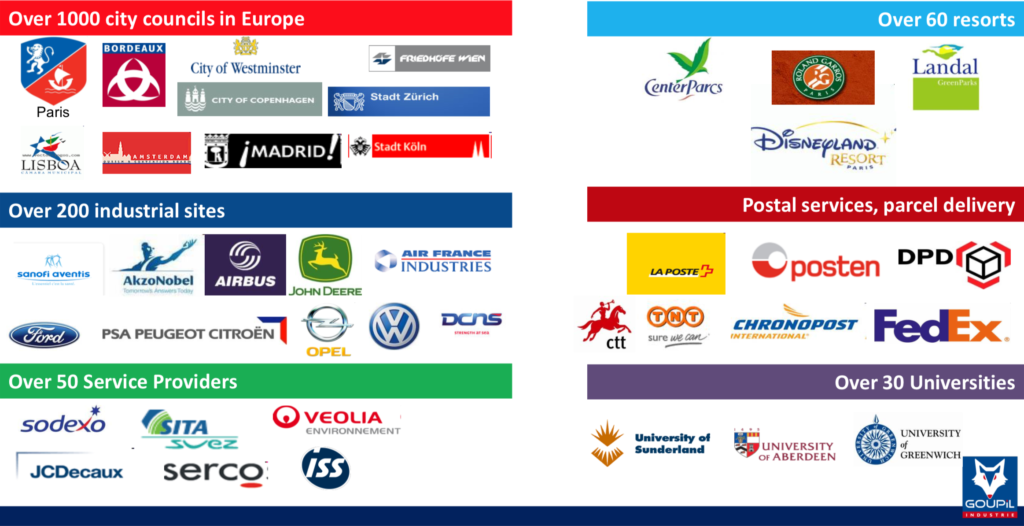 Leading customers in Belgium
Cities & Provinces: Anderlecht (5), Antwerp (11), Brussels (16), Edegem, East Flanders (7), Flemish Brabant (7), Ghent (6), Kortrijk, Liège (6), Meise, Namur, Niel, Ronse, Rumst, Soignies, Uccle, Wijnegem, …
Industry & leisure: ACIS, Agfa-Gevaert, Borgerstein (5), Center & Sun Parcs (16), DHL, Eandis, Ecopostale, Emmaus, Google, Hamer, Manus, NATO-HQ, Traflux, UCL, Umicore, VF-Europe, …
About GEM
Global Electric Motorcar (GEM) is a street legal, zero emissions, low speed vehicle. GEM is highly customizable and allows you to accomplish all the tasks you need at a lower cost than a pick-up truck, sedan, or passenger and utility vans. Meeting the federal requirements set for LSVs GEM has more safety features than your average golf cart. GEM costs less to purchase, has lower maintenance costs, costs less to charge (than filling up a gas vehicle), and is an outward sign of your commitment to environmental sustainability. Whether you need a people mover for campus tours, VIP transport, and department mobility, or you are in the market for a utility vehicle for grounds maintenance, indoor/outdoor hauling, or building maintenance, we have a vehicle to fill that role.
About Polaris
Polaris Industries Inc. (NYSE: PII) is a global powersports leader with annual 2015 sales of $4.7 billion. Polaris fuels the passion of riders, workers and outdoor enthusiasts with our RANGER®, RZR® and Polaris GENERAL™ side-by-side off-road vehicles; our SPORTSMAN® and Polaris ACE® all-terrain off-road vehicles; Victory® and Indian Motorcycle® midsize and heavyweight motorcycles; Slingshot® moto-roadsters; and Polaris RMK®, INDY®, Switchback® and RUSH® snowmobiles. Polaris enhances the riding experience with parts, garments and accessories sold under multiple recognizable brands, and has a growing presence in adjacent markets globally with products including military and commercial off-road vehicles, quadricycles, and electric vehicles.
About Taylor-Dunn
Founded in 1949, Taylor-Dunn is a leading manufacturer of commercial and industrial vehicles. For over sixty years, Taylor-Dunn's burden carriers, personnel carriers, stockchasers, electric carts, and tow tractors have been the dominant solution for customers in a broad range of industrial, commercial, and ground-support markets. Taylor-Dunn's guiding principle is to provide application-specific solutions that are tough, rugged, and dependable.